So it begins.  The big To-Do.  We knew when we bought this house that it was going to be a lot of work.  My attempts to repair the bathroom wall when we moved in showed me how much rot there was behind the beautifully painted sheetrock.
The roof has leaked for years, the foundation was below grade and crumbling in on area, we had a terrible time finding insurance because of the knob & tube and the fact that we only had 60 amps of service to the house.  Last summer our bedroom was full of flying termites. 
We saved and made plans and tried to educate ourselves for 3 years.  We decided to go 2/3 of the way around the house.  The south because it was clearly in bad shape, and the north-east because it was showing signs of stress under the weight of the deck.  We thought we might add an addition onto the north-west side at some point in the future, so we are leaving that corner alone.  We also clearly needed foundation work, electrical work and a new roof.
Stage 1.  Removing the stucco and cutting off the bottom of the south wall.  Since we had 3 years to plan, we collected up bits of lumber when we could.  Our contractor had also been setting aside things for us.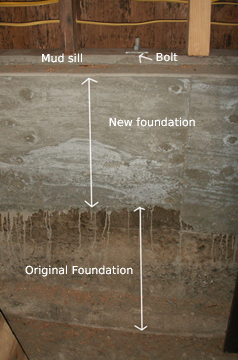 Our first really big score was from the church across the street.  At the same time we were framing up for our foundation, they where finishing up a handicap access ramp.  Barbara went over and asked if she could go though the dumpster.  We found almost enough 1" plywood to make the forms for our foundation!  Many of them were the right sort of shapes and had to be cut down little.  We discovered that cutting boards that had already used for concrete are hard on saw blades.  They also has some extra drain rock.  There was more than we could use so our contractor took the extra to our local native plant nursery.  After such good luck, Barbara went to the planning department and asked if there were any other large construction jobs ongoing.  There was only one other, but they didnt have any left over materials for us.
When it was time to pour our foundation, we decided to go with fly ash concrete.  It was considerably more expensive but since our job was small and there was cost in just having the truck come out, it seemed like a worth while expense.  Fly ash concrete is lighter and stronger than regular concrete.  It also has a lower embodied energy because it uses less portland cement.  We didnt manage to find any salvage rebar (darn) or foundation bolts (not very surprising).  We also had to buy new 3x6 PT Lumber for the mud sill.