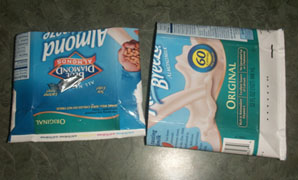 TetraPaks cannot be recycled because they are complex materials composed of different layers glued together.  We have been looking long and hard for ways to reuse them but what about those that can not be reused?
Since TetraPaks compose the majority of the very small amount of garbage we generate, we really notice them.  Their corners often come poking though the garbage bag.  Over the years we have tried many different strategies to get rid of them.  Now we have settled on one.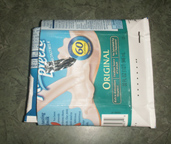 We flatten them and cut them in half down the middle.  This yields an extra teaspoon of contents that you could never get out otherwise.  The we stuff the halves into each other and then they are ready to leave us.  We know this is a really tiny thing to obsess about but changing this habit has taken us from two down to on bag of garbage per week.  It also means we consume fewer containers since we are able to use the last drop.  We believe in the power of making small changes in how we do things.  Maybe you have some type of container you are struggling with?