Here is one of our best original Re-Use projects.  Because we dont drink milk, our lives have been over run by a plague of TetraPaks.  We have a whole page dedicated to way to reuse them.
This design requires six but you can create any configuration you like.
First plan your organizer.  Then collect the right number of TetraPaks.  Cut the tops off the TetraPaks as you empty them so you can wash them out thoughly.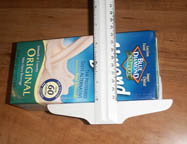 A ruler with a square and a Sharpie are handy for marking on the TetraPaks.  Mark and cut to the desired height.  The example has sections of the following heights:  2", 3", 4", 5", 6" and 7".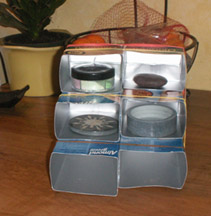 The next step is to glue them together.  Any good tacky craft glue will work.  Put large rubber bands around the organizer and turn the organizer on its back so you can set weights into the sections in order to insure good contact between the sections where the glue is.  Also be sure that the TetraPaks are all square to each other and that the bottom is flat.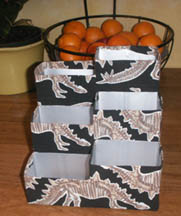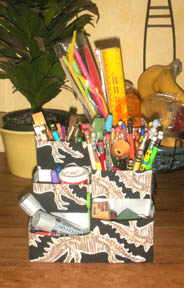 Its a good idea to cover the Tetra Paks with fabric.  You can skip this step if you like but it helps keep the sections together.  Tetra Paks arnt very fond of being glued.  Smear a thin layer of craft glue over the surface working one side at a time.  You can use some of the discarded Tetra Pak as a glue spreader.  Fold and trim fabric around the edges like wrapping a present.  I picked up this glow in the dark dino skeleton fabric as a remnant years ago when I worked at a fabric store.