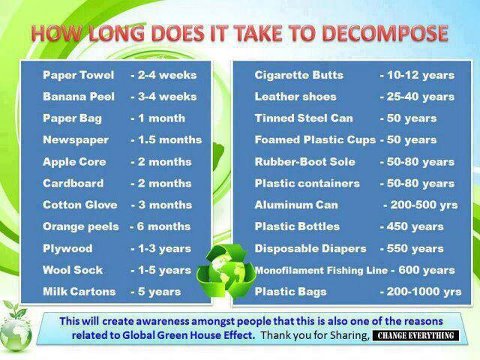 Did you know there's an island of plastic garbage that's the size of Texas floating out in the Pacific somewhere?  Recycle your used containers, and keep the plastic out of landfills and oceans!
Here are some obscure recycling resources
First off, its even better to reduce than recycle.  One way to reduce is with

LendList

.

Bookcrossing

.com allows you to track the books you give away as they move around the country and around

th

e world.
Dress for Success takes your old business attire and gives it to needy people who are looking to enter the business world.
Kids go through toys.  Try

ToySwap

and let us know what you think. 

Freecycle

is a network of people exchanging things for free to keep them out of the landfill and reduce consumption.
The energy return is different for glass vs. plastic.  Knowing this can help you make good decisions about purchases, reuse & recycling.
All our

greenie

freinds

have struggled with the fact we

arent

allowed to recycle lids.  Here is a webpage that explains some of the whys and we also found a link to a program that will accept lids.
Athletic Shoes:  One world running will send still-wearable shoes to athletes in need in Africa, Latin America and Haiti.  Nike's Reuse-a-shoe program turns old shoes into play ground and athletic flooring. Nike accepts shoes at certain locations or mailed to their recycling plants. They will

nott

recycle shoes with metal parts, mud or water, cleats, dress shoes, sandals or flip-flops, or wristbands from other brands.
Candy wrappers, juice bags and other:  

TerraCycle

turns candy wrappers into things like messenger bags and will donate 2 cents for each wrapper  to a school or nonprofit of your choice.
Working Cell phones:  Donate to Goodwill for victims of domestic violence.  Whole foods and the Wireless Foundation also collect working phones. 

Terracycle

will take broken phones and donate 25 cents to a local nonprofit.
Computers & Electronics:  Many electronics contain heavy metals and many toxins so do not throw them in the dump.  If your electronics are still in working order, take them to your local thrift store or Recycles.org or Share the Technology will help you find a home for them.  If they are no longer working then find responsible

recycler

by going to e-Stewards.com
Packing peanuts:  Simply take clean peanuts to your local mailing center.
Pharmaceutical & Expired Medications:  Take them to the police station for proper disposal.  DO NOT throw them in the garbage or down the toilet.
Batteries:  Here in the bay area we have options for battery recycling but if you live farther out then

Call2Recycle

might be useful to you. 

Call2Recycle

is e-Stewards certified.
Tapes and DVDs:  try

GreenDisk

. 

GreenDisk

isnt

e-Stewards certified (Fall 2010) so we cannot recommend taking your electronics to them. 
Printer and copier cartridges:  even if you

dont

shop at big office stores, you can take them to Office Max, Office Depot or Staples and name your local school or charity in the rewards program. 
The Lions club collects old eyeglasses and sends them to the needy.  Often to people who do not have access to such things.